Questions?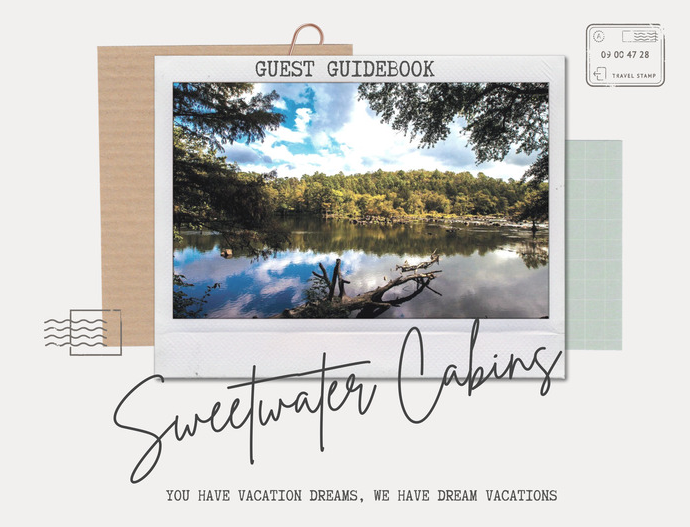 VIEW OUR NEW DIGITAL GUEST GUIDEBOOK!
---
Description
Cabin Configuration:
5 Bedrooms/5.5 Bathrooms/Sleeps 19
Main Floor:
King Master bedrooms with ensuite bathroom
King Bedroom with ensuite bathroom
Second Floor:
2 King Bedrooms with ensuite bathrooms
Bunk Rooms- one with 1Queen Bed,9 twin beds
Game Room - Pool table,Shuffleboard,Arcade,Game Table
Insidie: 4 master suites,large bunk room with ensuite bathroom,large fridge,double oven
Outside: Hot tub,horseshoes, gagaball pit,volleyball,ping pong, firepit,hammocks,outdoor fridge

5,033sq ft indoor/outdoor living
Discounts/Specials available for sweetwatercabins online bookings only
Events allowed- 3 night minimum, event fee applies
Baby Gear and Office Equipment Rentals Available
No pets allowed


Cabin Description:
Welcome to over 5000 square feet of ultra-luxury living high above the tall pines of the Ouachita Mountains! Pine View Paradise is a new, 5 bedroom, 5 and ½ bathroom beautifully appointed vacation oasis with room for up to 19 guests. If you are looking for a unique getaway with tons of amenities and room to spread out, look no further. Pine View Paradise has it all and more.
Pine View Paradise is located within Pine Hills, an area known for its beautiful surroundings and perfect location. Close to all that Broken Bow and Beavers Bend State Park has to offer, this grand home greets it's guests with an imposing entry that takes advantage of the property's slopping location to maximize the view you get from the expansive front deck. When you enter the cabin, you are welcomed into the first-floor great room, an area designed for gathering, relaxing, and making memories that will last a lifetime. The living room boasts a large sectional sofa and two high-backed blue velvet accent chairs, perfect for relaxing or reading a good book. A large flat screen Smart TV and gas log fireplace are located on a floor-to-ceiling wall encased in stunning gray stonework. Unique to this cabin is an upright piano, just in case a pianist is among your invited guests. The expansive windows located in the front of the cabin again take advantage of the stunning views, reminding everyone what makes this cabin a much sought after destination.
The kitchen offers all the modern conveniences you are accustomed to in your own home with some added bonuses. Stainless steel double-ovens, a hammered copper farmhouse sink, an electric cook top, microwave, and side-by-side refrigerator/freezer provide the chef or chefs of the group with plenty of options to cook a gourmet meal or throw together a quick snack. Pine View Paradise comes complete with many small appliances, bakeware, glassware, tableware, and other cooking accessories to please even the pickiest of cooks. With beautiful cabinetry and a center island including seating for 4, you and your guests will quickly realize why the kitchen is the heart of any home. The granite countertops and automatic dishwasher allow for fast clean-up, letting you maximize your time to enjoy why you came to Pine View Paradise in the first place: a much-needed vacation. A separate dining table provides a space to sit and enjoy a great meal and good-hearted conversation. A designated coffee bar near the dining table frees up the kitchen and allows anyone to grab a cup without interrupting whatever magic is being cooked up. Next to the kitchen is a conveniently located half-bath and separate laundry room with two sets of washers and dryers.

Also located on the first floor are two luxuriously appointed primary bedrooms, each outfitted with a comfortable king-sized bed, luxury linens, and a spa-inspired ensuite bath. The primary bathrooms each come complete with double sinks and a fully tiled walk-in shower. Inspired by the best hotels, inside the glass-enclosed shower is a free-standing soaking tub, inviting you to soak away your stress with either a good book or a glass of wine. No more fighting over who gets the better bedroom. Crisis averted!

Ready for some friendly competition? Climb the beautiful wooden stairs up into the expansive second-floor loft and let the games begin. Here you, your family, and your friends can have hours of fun playing shuffleboard, billiards, poker, and old school video games on the two-player video console table. Thirsty? To help keep the games going uninterrupted, the upstairs wet bar with refrigerator, ice maker, and sink makes getting drinks and snacks quick and easy. No constant up and down the stairs that is so common in many of the cabins in the area. This truly creates two separate interior gathering spaces giving everyone a choice of how to spend their vacation.

Sleeping accommodations on the second floor are many. On opposite sides of the loft, there are two identical King bedrooms, again both with their own ensuites. Each comes complete with double sinks and a fully tiled walk-in shower. A unique feature of these two rooms you're sure to love is the private second floor outdoor balcony only accessible through the bedroom. If it's quiet time you are searching for, these decks are the perfect place to relax, enjoy a drink, and gaze into the treetops. For the kids, there is a large bunk room located directly off the loft. With 9 twin-size bunks on three levels and a free-standing king bed, this area sleeps up to 11 people comfortably and gives the kids a space to call their own. With a wall-mounted flat screen smart TV and access to its own full bath and outdoor deck space, it's their own private oasis where they can feel as if they are away at summer camp.

At Pine View Paradise, the fun doesn't stop inside. Spread out over an acre and a half, this cabin is loaded with everything you could hope for to make even more lasting memories. You and your guests will never run out of things to do, and you haven't even explored the lake yet! The first-floor rear deck has a large built-in gas BBQ grill with ample prep space and an under-the-counter refrigerator. Additionally, there is a dining area, outdoor ping pong table, and a sectional sofa surrounding the wall-mounted flat screen smart tv and another gas log fireplace. For additional grilling, there is an added ceramic style smoker for the die-hard grill master. You will find extra seating spread around the deck, providing you different areas to kick back and enjoy the natural beauty that is Broken Bow/Hochatown. Off the main deck housed in its own secluded pergola is the always hot, always ready HOT TUB! Trust me when I say there is nothing like a long soak in the spa at the end of a lengthy day of exploration and fun to relax those sore muscles, letting the multiple jets work out the kinks. Spaced throughout the rest of the property are a GAGA pit, sand volleyball court, and hammock. Keeping those kids busy won't be a problem at Pine View Paradise. If star gazing is your jam, come and enjoy the wood burning fire pit surrounded by 10 Adirondack chairs. Whether you are toasting S'mores or hot dogs, this spot is sure to become a favorite of all your guests.

Come for the attractions and outdoor-driven activities and stay for the ambience! Pine View Paradise is within easy reach of every area activity and amenity Hochatown and McCurtain County have to offer. The cabin is located just a few miles from the lake and a public boat ramp that services Broken Bow Lake in Beavers Bend State Park. From boat to shore, you can enjoy great fishing, swimming, kayaking, canoeing, hiking, zip-lining, wine tasting, and many, many more activities. When a more laidback approach is desired, there's always the Choctaw Casino, bird watching, fall leaf viewing, fine dining, and the Ouachita National Forest, all within approximately 10 minutes or less of the cabin.

Luxury Amenities:
Boat Parking
Boat Slip
Pool Table
Game Table
Arcade
Shuffleboard
Gaga Ball Pit
Volleyball
Game table
Outdoor Playset
Cornhole Game
100% High Thread count cotton sheets
Hair Dryer
Iron with Ironing Board
Granite Counter Tops
Complimentary Coffee, Sugar, and Creamer
Fully Equipped Kitchen with Dishwasher
Crock pot, Tea Kettle, Electric Can Opener, Blender, and much more
Glasses and Barware
Serving utensils
Complete set of silverware and dinnerware
Complimentary High Speed Wireless Internet Access
Smart Screen TVs
Washer & Dryer
Self Controlled Central Heating and Air
Outdoor Fireplace seasonal October 1-March 31
Indoor Fireplace seasonal October 1-March 31
Gas Grill
Hot Tub
Expansive Outdoor Terrace with Patio Furniture
Wood Burning Fire Pit


Provisions Included In Your Rental:
Fully furnished cabin with standard appliances
Bath & Beach Towels, Wash Clothes, Hand Towels, Linens/Bedding, Plates & Cutlery, Drinking Glasses, Crockery, Cooking Utensils, Various Pots & Pans, Dishcloths, Pot Holders, Hair Dryer, Coffee Maker, Toaster, Blender, Crock Pot, Microwave, Dishwasher, Washer/Dryer, Propane Grill (1 propane tank included), Hot Tub, Outdoor Fire Pit, TV, Internet.
Starter Supply of Coffee (drip coffee only), Sugar Packets, Powdered milk Packets, Salt and Pepper Packets, 1 Kitchen Sponge, 5-6 Laundry Detergents, 5-6 Dishwasher Soaps (under sink), 1 Hand Soap, 2 rolls toilet paper per bathroom (1 on holder and 1 under sink/drawer) , 1 Paper Towel (under sink), 5-6 Trash bags (under sink), 1 Travel Sized Shampoo per shower/bath, 1 Bar Soap per bathroom and shower. Additional supplies can be purchased at local supermarkets.
A limited supply of bath towels/beach towels/wash clothes/hand towels are provided so laundering may be necessary during your stay

Provisions NOT Included In Your Rental:
Food
Firewood
Spices(except for salt and pepper packets)
Facial Tissues
Hangers(some owners provide)
Saran Wrap/Tin Foil/storage containers
Paper cups/paper plates/plastic silverware
Tea Kettle(some owners provide)
Closet(some cabins are only equipped with an owners/housekeeping closet which is not available to the guest)
Our cabins are for short term rental use only therefore, if an item is not listed as a provided provision, please assume it is not provided.
Map
Sleeping Arrangement
Bunk Room
1 Queen, 9 Twins
Amenities
Pool table
Shuffleboard
Arcade
Game Table
Hot tub
horseshoes
gaga ball pit
volleyball
cornhole
ping pong
firepit
hammocks
outdoor fridge
Boat Parking
Marina Boat slip included
Rates
* Rates are subject to change without notice. Pricing excludes taxes, additional options or fees.
Calendar
Sep - 2023
S
M
T
W
T
F
S

1

2

3

4

5

6

7

8

9

10

11

12

13

14

15

16

17

18

19

20

21

22

23

24

25

26

27

28

29

30
Oct - 2023
S
M
T
W
T
F
S

1

2

3

4

5

6

7

8

9

10

11

12

13

14

15

16

17

18

19

20

21

22

23

24

25

26

27

28

29

30

31
Nov - 2023
S
M
T
W
T
F
S

1

2

3

4

5

6

7

8

9

10

11

12

13

14

15

16

17

18

19

20

21

22

23

24

25

26

27

28

29

30
Dec - 2023
S
M
T
W
T
F
S

1

2

3

4

5

6

7

8

9

10

11

12

13

14

15

16

17

18

19

20

21

22

23

24

25

26

27

28

29

30

31
Jan - 2024
S
M
T
W
T
F
S

1

2

3

4

5

6

7

8

9

10

11

12

13

14

15

16

17

18

19

20

21

22

23

24

25

26

27

28

29

30

31
Feb - 2024
S
M
T
W
T
F
S

1

2

3

4

5

6

7

8

9

10

11

12

13

14

15

16

17

18

19

20

21

22

23

24

25

26

27

28

29
Mar - 2024
S
M
T
W
T
F
S

1

2

3

4

5

6

7

8

9

10

11

12

13

14

15

16

17

18

19

20

21

22

23

24

25

26

27

28

29

30

31
Apr - 2024
S
M
T
W
T
F
S

1

2

3

4

5

6

7

8

9

10

11

12

13

14

15

16

17

18

19

20

21

22

23

24

25

26

27

28

29

30
May - 2024
S
M
T
W
T
F
S

1

2

3

4

5

6

7

8

9

10

11

12

13

14

15

16

17

18

19

20

21

22

23

24

25

26

27

28

29

30

31
Jun - 2024
S
M
T
W
T
F
S

1

2

3

4

5

6

7

8

9

10

11

12

13

14

15

16

17

18

19

20

21

22

23

24

25

26

27

28

29

30
Jul - 2024
S
M
T
W
T
F
S

1

2

3

4

5

6

7

8

9

10

11

12

13

14

15

16

17

18

19

20

21

22

23

24

25

26

27

28

29

30

31
Aug - 2024
S
M
T
W
T
F
S

1

2

3

4

5

6

7

8

9

10

11

12

13

14

15

16

17

18

19

20

21

22

23

24

25

26

27

28

29

30

31
Reviews
Property Manager
Property
Property Manager
Property