Questions?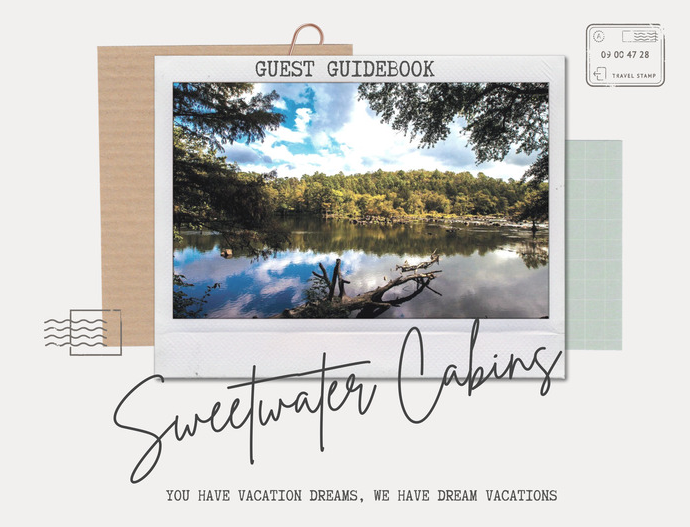 VIEW OUR NEW DIGITAL GUEST GUIDEBOOK!
---
Description
THE ENCLAVE CABIN CONFIGURATION:
4 Bedrooms/4.5 Bathrooms/Sleeps up to 16
Downstairs: 1st King Bedroom w/ ensuite bathroom, 2nd King Bedroom w/ensuite bathroom and patio access, 3rd King bedroom w/ ensuite bathroom and patio access, Bunk room (2 sets of twin over full, 1 set of twins), 2 sets of washers/dryers, shuffleboard, fireplace (seasonal October 1-March 31)
Upstairs: arcade/media room with 4 video arcades and 7 oversized electric theatre recliners
Outside: Outdoor fireplace (seasonal October 1-March 31), 3 outdoor living spaces, and 2 dining areas, outdoor dining table, outdoor grill, outdoor bar with stool seating, large fire pit with chairs, corn hole, connect four

THE ENCLAVE:

This stunning, high-end, sophistically decorated 3,600 square foot luxury cabin lies deep within the winding paved roads and dazzling topography of one of the most desirable developments in all of Hochatown — Timber Creek Trails (located not far from Mountain Fork Brewing, Sasquatch's Candy Den, Shuck Me, Mountain Fork Distillery, Girls Gone Wine, Grateful Head Pizza and Beavers Bend State Park).

As soon as you enter through the oversized modern steel and glass front door, you know you have entered a space unlike anything you have experienced before. THE ENCLAVE can sleep up to 16 people comfortably while still having plenty of room to spread out and read a book on the private front porch or watch movies with your friends in the large media room.

By design, THE ENCLAVE is a one-of-a-kind open concept floor plan featuring soaring ceilings, expansive walls of windows (providing endless cascades of natural light) and extensive use of natural materials all encapsulating massive living areas for friends and family to relax, have fun, and create new memories in a luxurious getaway up in the pines. This beautiful cabin is intentionally set a bit further down the slope of the hill to afford guests the unique perspective of floating high up in the trees and allowing privacy on the front porch and deck areas. On what feels like one of the largest two-tiered outdoor patio decks in Broken Bow, the upper deck features two seating areas, a beautiful soaring fireplace, an outdoor dining space and a large, multi-jetted hot tub. Barbequing never had such a spectacular view! The lower deck adds another layer of fun with bar height seating, again with a stunning view of the tall pine trees Broken Bow is known for.

THE ENCLAVE features 3 tastefully decorated master bedrooms, each with spa-like en-suites, for lucky couples to enjoy their vacation in style and comfort. No one will feel like they got the short end of the stick in these beautiful rooms! An inviting, open and airy bunk room with oversized queen, full and twin bunks will give your kids their own space to enjoy being just as silly and loud as they want to be!

Directly connected to the bunkroom is a hidden staircase that leads to a second-floor retreat designed for all ages! As you ascend the stairs, your eyes are met with a ceiling decked out in brilliant LED lighting. As you enter, you see a row of colorful video arcade game machines that will keep everyone entertained for hours. If it's time for a movie, step through the arcade room into your very own theater, complete with 7 electric media recliners and a huge flat screen tv. Who said roughing it really has to mean roughing it!

A spare-no expense attitude has been carefully applied to every aspect of this lavish build to ensure that THE ENCLAVE unmistakably resides among the most memorable luxury cabins in all of Broken Bow.

PROVISIONS INCLUDED IN YOUR RENTAL:
• Fully furnished cabin with upgraded stainless steel appliances
• Complimentary Organic Gourmet Popcorn Gift Set
• Bath & Beach Towels, Wash Clothes, Hand Towels, Linens/Bedding, Plates & Cutlery, Drinking Glasses, Crockery, Cooking Utensils, Various Pots & Pans, Dishcloths, Pot Holders, Hair Dryer, Coffee Maker, Toaster, Blender, Crock Pot, Microwave, Dishwasher, Washer/Dryer, Propane Grill (1 propane tank included), Hot Tub, Outdoor Fire Pit, TV, Internet.
• STARTER SUPPLY of Coffee (drip coffee only), Sugar Packets, Powdered milk Packets, Salt and Pepper Packets, 1 Kitchen Sponge, 5-6 Laundry Detergents, 5-6 Dishwasher Soaps (under the sink), 1 Hand Soap, 2 rolls toilet paper per bathroom (1 on holder and 1 under sink/drawer), 1 Paper Towel (under the sink), 5-6 Trash bags (under the sink), 1 Travel Sized Shampoo per shower/bath, 1 Bar Soap per bathroom and shower. Additional supplies can be purchased at local supermarkets.
**A limited supply of bath towels/beach towels/wash clothes/hand towels are provided so laundering may be necessary during your stay

PROVISIONS NOT INCLUDED IN YOUR SHORT-TERM RENTAL:
• Food
• Firewood
• Spices (except for salt and pepper packets)
• Facial Tissues
• Hangers (some owners provide)
• Saran Wrap/Tin Foil/storage containers
• Paper cups/paper plates/plastic silverware
• Tea Kettle (some owners provide)
• Closet (some cabins are only equipped with an owners/housekeeping closet which is not available to the guest)
**Our cabins are for short-term rental use only therefore, if an item is not listed as a provided provision, please assume it is not provided.

LUXURY AMENITIES:
3 King Bedrooms with luxury bedding and 1 Large Bunk Room
5600 sq. feet indoor and outdoor cabin living with almost 2 acres of land on the CREEK
Amenities include Media Room, Air Hockey, 4 Video Arcades,Cornhole
Big Screen Smart TV's
Complimentary WiFi and wireless Internet
Indoor Gas Fireplace- Fireplaces are seasonal October 1-March 31
Outdoor Gas Fireplace- Fireplaces are seasonal October 1-March 31
Firepit with seating
Fully Equipped Kitchen with Stainless Steel Appliances
Top-quality silverware, cooking utensils, and baking supplies
Drip coffee machine with coffee, sugar, and creamer included
Large 8 person Hot Tub
Covered Porch with seating and dining areas
Full-size washer & dryer
Iron and Ironing Board
Gas grill with propane included

Map
Amenities
Games: 4 Video Arcades, Air Hockey Table, Board games/puzzles
Large Bunk Room just for the kids
Outdoor Gas Grill with Propane Provided
2 Refrigerators
Washer & Dryer (2 sets)
Large Hot Tub
Outdoor Fireplace (seasonal October 1-March 31)
Outdoor Dining and Seating
Cornhole

Rates
* Rates are subject to change without notice. Pricing excludes taxes, additional options or fees.
Calendar
Jun - 2023
S
M
T
W
T
F
S

1

2

3

4

5

6

7

8

9

10

11

12

13

14

15

16

17

18

19

20

21

22

23

24

25

26

27

28

29

30
Jul - 2023
S
M
T
W
T
F
S

1

2

3

4

5

6

7

8

9

10

11

12

13

14

15

16

17

18

19

20

21

22

23

24

25

26

27

28

29

30

31
Aug - 2023
S
M
T
W
T
F
S

1

2

3

4

5

6

7

8

9

10

11

12

13

14

15

16

17

18

19

20

21

22

23

24

25

26

27

28

29

30

31
Sep - 2023
S
M
T
W
T
F
S

1

2

3

4

5

6

7

8

9

10

11

12

13

14

15

16

17

18

19

20

21

22

23

24

25

26

27

28

29

30
Oct - 2023
S
M
T
W
T
F
S

1

2

3

4

5

6

7

8

9

10

11

12

13

14

15

16

17

18

19

20

21

22

23

24

25

26

27

28

29

30

31
Nov - 2023
S
M
T
W
T
F
S

1

2

3

4

5

6

7

8

9

10

11

12

13

14

15

16

17

18

19

20

21

22

23

24

25

26

27

28

29

30
Dec - 2023
S
M
T
W
T
F
S

1

2

3

4

5

6

7

8

9

10

11

12

13

14

15

16

17

18

19

20

21

22

23

24

25

26

27

28

29

30

31
Jan - 2024
S
M
T
W
T
F
S

1

2

3

4

5

6

7

8

9

10

11

12

13

14

15

16

17

18

19

20

21

22

23

24

25

26

27

28

29

30

31
Feb - 2024
S
M
T
W
T
F
S

1

2

3

4

5

6

7

8

9

10

11

12

13

14

15

16

17

18

19

20

21

22

23

24

25

26

27

28

29
Mar - 2024
S
M
T
W
T
F
S

1

2

3

4

5

6

7

8

9

10

11

12

13

14

15

16

17

18

19

20

21

22

23

24

25

26

27

28

29

30

31
Apr - 2024
S
M
T
W
T
F
S

1

2

3

4

5

6

7

8

9

10

11

12

13

14

15

16

17

18

19

20

21

22

23

24

25

26

27

28

29

30
May - 2024
S
M
T
W
T
F
S

1

2

3

4

5

6

7

8

9

10

11

12

13

14

15

16

17

18

19

20

21

22

23

24

25

26

27

28

29

30

31
Video
Reviews
Property Manager
Property
Property Manager
Property
Property Manager
Property
Similar Properties
Starting at (USD)
$795.00 Starting at (USD)
$795.00 Starting at (USD)
$995.00