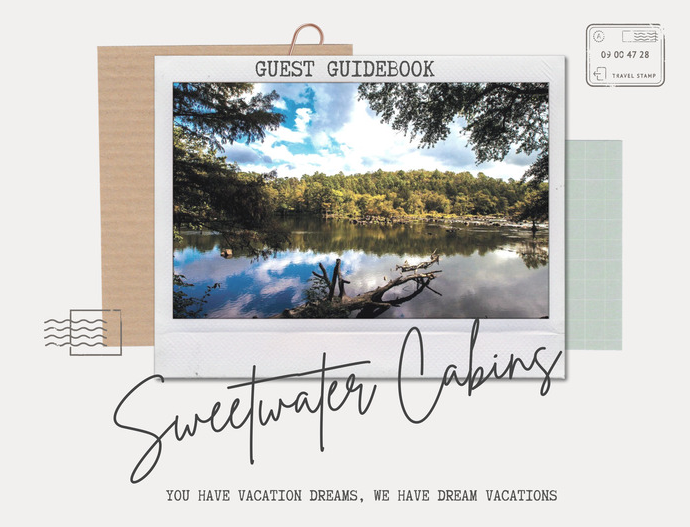 VIEW OUR NEW DIGITAL GUEST GUIDEBOOK!
---
Vacation Rental Etiquette
All Sweetwater Cabins are all privately owned so as their guest we ask that you kindly treat their home with the same love and respect you do your own and be a neat and courteous guest.
Please arrive and depart on time, arrival time is any time after 4:00 pm and departure time is no later than 11:00 am.
Before you leave, please pick up after yourself and have your guests do the same. A vacation rental clean differs vastly from a regular household cleaning and the cleaning fee paid does not include maid service such as picking up trash, emptying refrigerator, etc. Our professional cleaners provide detailed deep cleans with enhanced COVID procedures after every guest including, but not exclusive to, laundering all towels, sheets, blankets, remaking all beds, sweeping, dusting, vacuuming, washing floors, sanitizing toilets, sinks, showers, emptying, cleaning, and refilling hot tubs and hot tub filter, scrubbing grill, restocking supplies, checking TV's, fireplaces, and internet, staging the cabin, and so much more. Please respect them and their time by leaving the cabin tidy and by following the check-out procedures provided.
Always supervise children and adult guests and do not allow them to rough house in or around the cabin, put feet on or jump on furniture, move furniture, bang on walls, slam doors, use game sticks as swords, hang from railing or cabinets, pee, or vomit in hot tub or on bed linens, etc. and please make sure their rooms are tidy and neat before checking out.
NEVER bring your pet to a cabin that is NOT pet friendly (ADA service animals excluded, emotional support dogs are not excluded). Some owners/their children/other guests are highly allergic, and we ask that you not jeopardize their health by bringing an unapproved pet. We have many cabins that can accommodate your furry friend.
NEVER smoke (including cigarettes, marijuana, cigars etc.) inside the cabin or throw your butts on the ground.
Respect other cabin guests by keeping your noise level down and adhering to Hochatown's quiet hours.
It is our goal to provide exceptional service so please read over our pre-arrival form that will be located on the refrigerator as soon as you arrive and notify us if there are any damages, non-working items, or concerns.