Questions?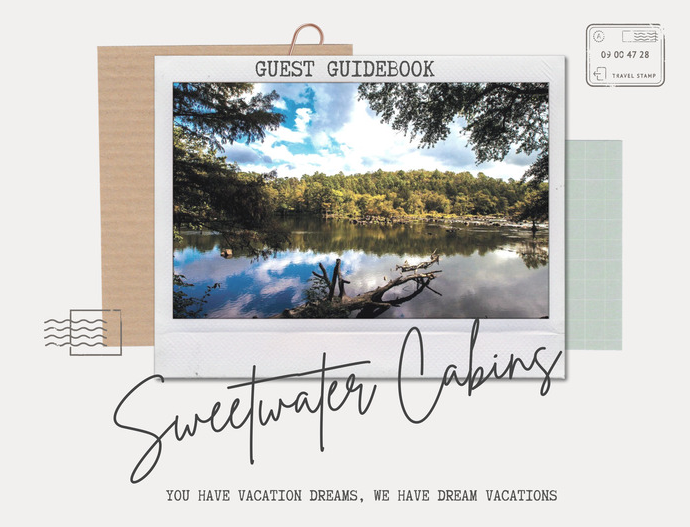 VIEW OUR NEW DIGITAL GUEST GUIDEBOOK!
---
Description
CABIN CONFIGURATION:
1 Bedroom/1 Bathroom, Sleeps 4
1 Primary King Bedroom sleeps 2 with En-suite Bath with Soaker Tub. Queen Sleeper Sofa Sleeps 2
PET FRIENDLY - with payment of nightly pet fee
DISCOUNTS/SPECIALS available for online sweetwatercabins bookings only.
BABY GEAR AND OFFICE EQUIPMENT RENTAL AVAILABLE: high chair, stroller, pack n' play, crib, baby tub, office desk and chair, printer


Cabin Description:
Travel to an exotic location without the hassle of air travel! Sounds fun, right? Welcome to your Mediterranean Oasis located in the picturesque Oklahoma Mountains! Moroccan Nights is a brand new, one-bedroom ultra-luxe cabin located in the beautiful subdivision of West Fork on a corner lot, nestled within what Airbnb lists as the most sought-after vacation destination in the country, Broken Bow. Designed to transport you to another world just a few hours drive from your home, this sublime vacation home will surely take you to a unique place of rest, comfort, and serenity.

As you arrive onto the property, Moroccan Nights greets you with an inviting open-air front deck begging you to begin your stay by putting down your bags, taking a seat in one of the high-backed wicker chairs, and enjoying a moment to decompress from your travels and breathe in the fresh, calming mountain air. When you decide to go inside (take you time), Moroccan Nights welcomes you to a world of beautiful, extraordinary colors and textures. From the soft, velvet fabrics to the crushed blues, golds, and oranges, the living space is where your transport to a foreign land begins. An ultra-plush sofa, two gold contemporary chairs, and a day-bench provide you and your guests with several ways to sit and unwind either by having a drink, playing games, or viewing a movie on the large, flat screen Smart TV. A seasonal, glass enclosed gas fireplace and grand chandelier will only add to the feeling of being in an exceptional vacation destination. When it's time to finally turn in, the sofa becomes a queen-sized bed for two to peacefully fall asleep.

The fully stocked kitchen in Moroccan Nights is designed to provide its guest with all the modern amenities needed to prepare meals while maintaining the intimate and glamourous feel of a Mediterranean getaway. From the stainless-steel appliances, custom tile backsplash, and porcelain countertops, the space is both functional and inviting. Small details and color continue to transport everyone away to a distant location.

Perhaps the most stunning space within Moroccan Nights is revealed when you slide back the large barn doors and enter the phenomenal primary suite. You are first struck by the intricately carved king-size wooden bed set against the backdrop of a breathtaking sunset-colored wall. Flanked by two ornate pendant lights, the bed is covered in fine linens and rich, vibrant pillows. A crushed velvet chair, reading table, carved wooden chest, and colorful adornments create a retreat worthy of a 5-star hotel. The spa-like ensuite bath has a gorgeous, 6' double vanity with vessel sinks, and a fully tiled large shower with a beautifully inlaid floor. The free-standing soaking tub is the perfect finish to your day, relaxing to either soft music or a good book. Unwinding at it's finest.

Of course, we can't forget the stunning outdoor space surrounding Moroccan Nights.Located on a corner lot in WestFork subdivisition. Step out onto your covered back patio and discover another oasis enticing you to expand your vacation and your experience. A gathering place with seating for four to lounge, relax, and enjoy yet another stunning gas fireplace is awaiting your family and friends. The large, therapeutic hot tub can help to relieve those tired, aching muscles and help to bring you and your guests to a place of calmness and tranquility.
After dark, have everyone meet at the wood-burning firepit and experience the beautiful skies you can only get in up in these special mountains. While enjoying a cocktail and some Smores, sit back in the comfortable Adirondack chairs or cozy hammocks, gaze up into the trees, and stargaze until your spirits are lifted. And begin planning your return trip to Moroccan Nights!

While you are on your far, far away vacation getaway we welcome you to venture outside the property and experience the many outdoor-driven activities the area is known for. Moroccan Nights is within easy reach of every area activity and amenity Hochatown, Broken Bow, and McCurtain County has to offer. From boat to shore, you can enjoy great fishing, swimming, kayaking, canoeing, hiking, zip-lining, wine tasting, and many, many more activities. When a more laidback approach is desired, there's always the Choctaw Casino, bird watching, fall leaf viewing, fine dining, and the Ouachita National Forest, all within approximately 15 minutes or less of the cabin. Or do nothing at all. Your vacation. Your decision. No judgement. ...Just breathe.


PROVISIONS INCLUDED IN YOUR RENTAL:
• Fully furnished cabin with standard appliances
• Complimentary signature snack
• Bath & Beach Towels, Wash Clothes, Hand Towels, Linens/Bedding, Plates & Cutlery, Drinking Glasses, Crockery, Cooking Utensils, Various Pots & Pans, Dishcloths, Pot Holders, Hair Dryer, Coffee Maker, Toaster, Blender, Crock Pot, Microwave, Dishwasher, Washer/Dryer, Propane Grill (1 propane tank included), Hot Tub, Outdoor Fire Pit, TV, Internet.
• STARTER SUPPLY of Coffee (drip coffee only), Sugar Packets, Powdered milk Packets, Salt and Pepper Packets, 1 Kitchen Sponge, 5-6 Laundry Detergents, 5-6 Dishwasher Soaps (under sink), 1 Hand Soap, 2 rolls toilet paper per bathroom (1 on holder and 1 under sink/drawer) , 1 Paper Towel (under sink), 5-6 Trash bags (under sink), 1 Travel Sized Shampoo per shower/bath, 1 Bar Soap per bathroom and shower. Additional supplies can be purchased at local supermarkets.
**A limited supply of bath towels/beach towels/wash clothes/hand towels are provided so laundering may be necessary during your stay

PROVISIONS NOT INCLUDED IN YOUR SHORT TERM RENTAL:
• Food
• Firewood
• Spices (except for salt and pepper packets)
• Facial Tissues
• Hangers (some owners provide)
• Saran Wrap/Tin Foil/storage containers
• Paper cups/paper plates/plastic silverware
• Tea Kettle (some owners provide)
• Closet (some cabins are only equipped with an owners/housekeeping closet which is not available to the guest)
**Our cabins are for short term rental use only therefore, if an item is not listed as a provided provision, please assume it is not provided.
Map
Rates
* Rates are subject to change without notice. Pricing excludes taxes, additional options or fees.
Calendar
Jun - 2023
S
M
T
W
T
F
S

1

2

3

4

5

6

7

8

9

10

11

12

13

14

15

16

17

18

19

20

21

22

23

24

25

26

27

28

29

30
Jul - 2023
S
M
T
W
T
F
S

1

2

3

4

5

6

7

8

9

10

11

12

13

14

15

16

17

18

19

20

21

22

23

24

25

26

27

28

29

30

31
Aug - 2023
S
M
T
W
T
F
S

1

2

3

4

5

6

7

8

9

10

11

12

13

14

15

16

17

18

19

20

21

22

23

24

25

26

27

28

29

30

31
Sep - 2023
S
M
T
W
T
F
S

1

2

3

4

5

6

7

8

9

10

11

12

13

14

15

16

17

18

19

20

21

22

23

24

25

26

27

28

29

30
Oct - 2023
S
M
T
W
T
F
S

1

2

3

4

5

6

7

8

9

10

11

12

13

14

15

16

17

18

19

20

21

22

23

24

25

26

27

28

29

30

31
Nov - 2023
S
M
T
W
T
F
S

1

2

3

4

5

6

7

8

9

10

11

12

13

14

15

16

17

18

19

20

21

22

23

24

25

26

27

28

29

30
Dec - 2023
S
M
T
W
T
F
S

1

2

3

4

5

6

7

8

9

10

11

12

13

14

15

16

17

18

19

20

21

22

23

24

25

26

27

28

29

30

31
Jan - 2024
S
M
T
W
T
F
S

1

2

3

4

5

6

7

8

9

10

11

12

13

14

15

16

17

18

19

20

21

22

23

24

25

26

27

28

29

30

31
Feb - 2024
S
M
T
W
T
F
S

1

2

3

4

5

6

7

8

9

10

11

12

13

14

15

16

17

18

19

20

21

22

23

24

25

26

27

28

29
Mar - 2024
S
M
T
W
T
F
S

1

2

3

4

5

6

7

8

9

10

11

12

13

14

15

16

17

18

19

20

21

22

23

24

25

26

27

28

29

30

31
Apr - 2024
S
M
T
W
T
F
S

1

2

3

4

5

6

7

8

9

10

11

12

13

14

15

16

17

18

19

20

21

22

23

24

25

26

27

28

29

30
May - 2024
S
M
T
W
T
F
S

1

2

3

4

5

6

7

8

9

10

11

12

13

14

15

16

17

18

19

20

21

22

23

24

25

26

27

28

29

30

31
Video
Reviews
Property Manager
Property
Property Manager
Property
Similar Properties
Starting at (USD)
$220.00 Starting at (USD)
$198.00 Starting at (USD)
$395.00 Starting at (USD)
$225.00 Starting at (USD)
$225.00 Starting at (USD)
$225.00 Notes
Hot tub
Hammock
Corn Hole
Firepit
Fireplace
Outdoor seating area