Questions?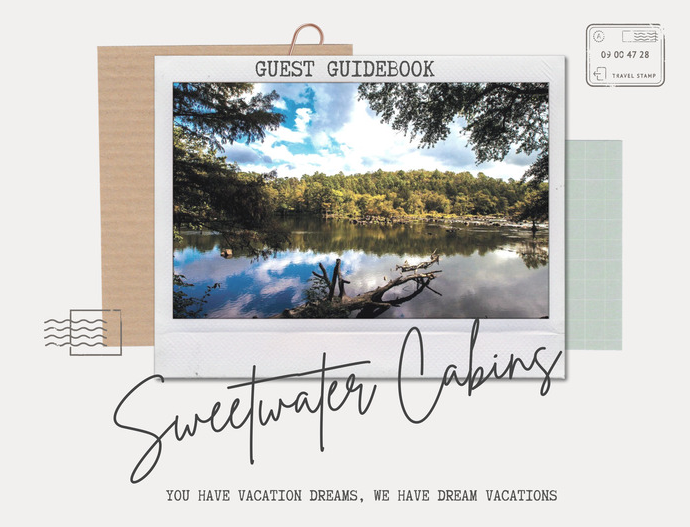 VIEW OUR NEW DIGITAL GUEST GUIDEBOOK!
---
Description
Cabin Configuration:
1 King Bedroom/1 En-Suite Bathroom w/5 ft. Round Soaker Tub, Sleeps 2/Yoga Room
Pet Friendly - with payment of nightly pet fee
Location:
15 minutes north of Hochatown located within Sweet Serenity Luxury Resort
ia a 36-acre private and secluded resort with only 5 cabins on the property. The resort includes an inground swimming pool (seasonal access) and a clubhouse (year-round access). The clubhouse includes a gym, library with seating area, dining area, bathroom, game room with a pool table, a video arcade table, a poker/snooker table, and a full kitchen to use for events.
Cabin Description:
Key West Cottage is one of 5 cabins located within the serene beauty of Sweet Serenity Resort, a 36-acre retreat just north of Hochatown and Broken Bow, Oklahoma nestled in a private and peaceful cul-de-sac with over 1.5 acres of large hardwoods. Sweet Serenity Resort offers its guests the following amenities;
Inground Swimming Pool (seasonal Memorial to Labor day)
Large Community Fire Pit
Outdoor Lounge and Seating Area
The Clubhouse includes a Big Screen TV, Pool Table, Poker Table, Snooker Table, Gym with weights, a weight bench, a treadmill, yoga mats, resistance bands, and more, a Library with books to borrow and games to play, and Dining Area. Available year-round

Come and see where the beach meets the forest! KEY WEST has a Florida beach cottage vibe set within the beauty of the Oklahoma mountains. This
secluded cabin
blends nature and exquisite design into a seamless indoor/outdoor flow. Plenty of free space and natural light incorporate touches of understated elegance and impeccable craftsmanship. While the outdoors takes center stage, the interiors contribute a luxury cabin vibe that is simply superb. Nestled within Sweet Serenity Resort, Key West Cottage is set on a private and peaceful cul-de-sac that offers our guests a sense of quiet seclusion. Inside and out, Key West Cottage offers couples the solitude of the woods, the amenities of a boutique hotel, and the familiarities of a home (including high-speed internet) to ensure a vacation that will never be forgotten and sets the bar for future holidays to come.
Key West Cottage was custom designed by a well-renowned Dallas architect to take advantage of the surrounding landscape to provide our guests with a unique experience that embraces both the indoors and outdoors simultaneously. The soaring ceilings of Key West Cottage are painted in a peaceful blue and the soft earth tones of the interior bring to mind the smell of the cool ocean breeze and the feel of the soft sand under your toes. The extensive use of windows and sliding glass doors not only brings the outdoors in but frames the trees to create an almost gallery-like feel inside the cabin and ever-changing art on the walls. The
see-through fireplace
in the living room brings even more openness and light into the space to allow you to relax and enjoy your much-needed time away. The living space is a calming and comfortable open-concept design that affords carefree living during your stay at Key West Cottage. All the furniture is sophisticated and inviting. Snuggling on the sofa, you can enjoy watching the
55" smart TV
and take in the warm, soft, orange glow of the
gas log fireplace
. If peace of mind is your mood, just kick back and enjoy a drink and a relaxing conversation. If your mood changes, bring your drinks and move to the
large backyard-covered deck
and listen to the sounds of nature or relax in the fully
reclining lounge chairs
on the
extended sun deck
. If you need to recharge your soul and clear your mind, we offer a separate
yoga retreat
where you can go and practice your downward dog or ponder the meaning of life in the baby pose. Namaste………
From the
stainless-steel fixtures
, high-end
Kitchen Aid appliances
,
wicker and seashell lighting
,
custom open cabinets,
and
waterfall edge porcelain countertops
, the designer kitchen was designed to be chic yet casual. Within this well-appointed kitchen, you will find all the small appliances, utensils, and serving dishes needed to prepare a gourmet meal or a simple late-night snack. Sit at the kitchen table and enjoy your morning coffee while your loving chef makes you a delicious breakfast (or vice versa).
Through a
6 ft sliding glass door
from the living room, you enter an oasis like no other. Encased in beautiful opulent tile from floor to ceiling, the gorgeous spa-like bathroom will not disappoint. The first feature that will draw your eye is the beautiful,
free-standing 5' round soaking tub
. Lit from above by a
chandelier made from Cadiz
, this spacious tub will invite you to spend some quality time just relaxing to soft music or a good book. The
huge walk-in shower
with a large bench has
two shower heads as well as a hand-held shower,
again encasing you in high-end tile work that is done in soft beach tones. A
free-floating James Martin double vanity
with a
back-lit 6-foot mirror
will ensure that no sharing is needed when it is time to get ready to go and enjoy all that Key West Cottage, Sweet Serenity Resort, and Hochatown have to offer! The master bedroom, with its vaulted ceiling and expansive use of glass, provides our guests with a beautiful space to rest or catch up on their favorite tv program. The roomy and comfortable
king-sized bed
and soft linens will offer you a tranquil, restful night's sleep surrounded by the quiet trees and peaceful calm of nature.
Leaving the cabin through the bedrooms
6 ft. sliding glass doors
into the beautiful forest that makes up Sweet Serenity Resort, you are able to take advantage of the cozy
Dr. Wellness Tranquillity sunken hot tub equipped with two lounge seats, 31 jets, and blue tooth speakers.
You can also enjoy the
double-sided fireplace
from the comfort of the hot tub while having a cocktail and recharging your soul. An open area sun deck equipped with two fully reclining sun chairs and a gas grill only add to the amenities you will enjoy during your stay at Key West Cottage. Oh, and don't forget the
wood-burning fire pit
and
Adirondack chairs
nestled within the landscape for enjoying those beautiful Oklahoma nights. No expense was spared from the development to the completion of this cabin!
Come for the attractions and outdoor-driven activities and stay for the ambiance! Key West Cottage and Sweet Serenity Resort are within easy reach of every area activity and amenity Hochatown and McCurtain County have to offer. A unique feature of Sweet Serenity Resort is that it is located just a few miles from a rarely used public
boat ramp
that services Broken Bow Lake in Beavers Bend State Park. Also, Sweet Serenity Resort provides our guests with an inground, outdoor pool (
open from Memorial Day to October 1st
), an outdoor fire pit and lounge area, and a clubhouse with a small gym, library, pool table, snooker table, and video arcade machine for all our guests to enjoy. From boat to shore, you can enjoy great fishing, swimming, kayaking, canoeing, hiking, zip-lining, wine tasting, and many more area activities. When a more laidback approach is desired, there's always the Choctaw Casino, bird watching, fall leaf viewing, fine dining, and the Ouachita National Forest, all within approximately 15 minutes or less of the cabin. Or do nothing at all. Your vacation. Your decision. No judgment. Sweet Serenity...Just breathe.
Provisions Included In Your Rental:
• Fully furnished cabin with high-end appliances
• Exclusive Gourmet Popcorn Gift Box
• Bath & Hot tub Towels, Wash Clothes, Hand Towels, Linens/Bedding, Plates & Cutlery, Drinking Glasses, Crockery, Cooking Utensils, Various Pots & Pans, Dishcloths, Pot Holders, Hair Dryer, Coffee Maker, Toaster, Blender, Crock Pot, Tea Kettle, Microwave, Dishwasher, Washer/Dryer, Propane Grill (1 propane tank included), Hot Tub, Outdoor Fire Pit, 2 TV's, and high-speed Internet.
•
Starter Supply
of Coffee (drip coffee only), Sugar Packets, Powdered milk Packets, Salt and Pepper Packets, 1 Kitchen Sponge, 5-6 Laundry Detergents, 5-6 Dishwasher Soaps (under the sink), 1 Dish Soap, 2 rolls toilet paper per bathroom (1 on holder and 1 under sink/drawer), 1 Paper Towel Roll (under the sink), 5-6 Trash bags (under the sink), 2 Travel Sized Shampoo/Conditioners per shower/bath, 1 Bar Soap per bathroom and shower, Hangers. Additional supplies can be purchased at local supermarkets.
**A limited supply of bath towels/beach towels/wash clothes/hand towels are provided so laundering may be necessary during your stay
Provisions NOT Included In Your Rental:
• Food
• Firewood
• Spices (except for salt and pepper packets)
• Facial Tissues
• Saran Wrap/Tin Foil/storage containers
• Paper cups/paper plates/plastic silverware
**Our cabins are for short-term rental use only therefore, if an item is not listed as a provided provision, please assume it is not provided.
Map
Rates
* Rates are subject to change without notice. Pricing excludes taxes, additional options or fees.
Calendar
Dec - 2023
S
M
T
W
T
F
S

1

2

3

4

5

6

7

8

9

10

11

12

13

14

15

16

17

18

19

20

21

22

23

24

25

26

27

28

29

30

31
Jan - 2024
S
M
T
W
T
F
S

1

2

3

4

5

6

7

8

9

10

11

12

13

14

15

16

17

18

19

20

21

22

23

24

25

26

27

28

29

30

31
Feb - 2024
S
M
T
W
T
F
S

1

2

3

4

5

6

7

8

9

10

11

12

13

14

15

16

17

18

19

20

21

22

23

24

25

26

27

28

29
Mar - 2024
S
M
T
W
T
F
S

1

2

3

4

5

6

7

8

9

10

11

12

13

14

15

16

17

18

19

20

21

22

23

24

25

26

27

28

29

30

31
Apr - 2024
S
M
T
W
T
F
S

1

2

3

4

5

6

7

8

9

10

11

12

13

14

15

16

17

18

19

20

21

22

23

24

25

26

27

28

29

30
May - 2024
S
M
T
W
T
F
S

1

2

3

4

5

6

7

8

9

10

11

12

13

14

15

16

17

18

19

20

21

22

23

24

25

26

27

28

29

30

31
Jun - 2024
S
M
T
W
T
F
S

1

2

3

4

5

6

7

8

9

10

11

12

13

14

15

16

17

18

19

20

21

22

23

24

25

26

27

28

29

30
Jul - 2024
S
M
T
W
T
F
S

1

2

3

4

5

6

7

8

9

10

11

12

13

14

15

16

17

18

19

20

21

22

23

24

25

26

27

28

29

30

31
Aug - 2024
S
M
T
W
T
F
S

1

2

3

4

5

6

7

8

9

10

11

12

13

14

15

16

17

18

19

20

21

22

23

24

25

26

27

28

29

30

31
Sep - 2024
S
M
T
W
T
F
S

1

2

3

4

5

6

7

8

9

10

11

12

13

14

15

16

17

18

19

20

21

22

23

24

25

26

27

28

29

30
Oct - 2024
S
M
T
W
T
F
S

1

2

3

4

5

6

7

8

9

10

11

12

13

14

15

16

17

18

19

20

21

22

23

24

25

26

27

28

29

30

31
Nov - 2024
S
M
T
W
T
F
S

1

2

3

4

5

6

7

8

9

10

11

12

13

14

15

16

17

18

19

20

21

22

23

24

25

26

27

28

29

30
Video
Reviews
Property Manager
Property
National Forest, distillery, dining out
Property Manager
Property
Property Manager
Property
Property Manager
Property
Property Manager
Property
Property Manager
Property
Property Manager
Sweetwater Cabins was great to work with.
Property
Key West Cabin is absolutely beautiful. The resort, Sweet Serenity, is secluded and private just as advertised and the pool and clubhouse are great amenities that we used all weekend when we weren't relaxing in the most amazing hot tub ever! We saw deer every morning and it was so quiet and peaceful at night. We wish we didn't have to go and can't wait to come back!
Similar Properties
Notes
Key West Cottage cabin is located just 15 minutes north of the hustle and bustle of Hochatown and offers the quiet seclusion that so many new and returning guests are requesting and are often disappointed to find doesn't exist. Hochatown proper is great if you don't mind being right in the middle of all the action. However, if you are looking for a place to relax, unwind, and enjoy the peace and quiet that nature offers with your significant other, then Key West Cottage cabin located within the new resort destination, Sweet Serenity, is the destination for you.

Located just a few minutes east of the highway towards Broken Bow Lake, Sweet Serenity has absolutely no road noise and no other developments to interfere with your peaceful getaway. Sweet Serenity encompasses 36 beautiful acres of hardwood trees, 4 one-bedroom cabins, a tiny house, and a Clubhouse for only 10 guests to enjoy. The center of the resort consists of an inground swimming pool with sundeck, a fire pit with Adirondack chairs, lots of outdoor seating, and acres and acres to roam around on. Inside the Clubhouse you will find a gym with a treadmill, weights, resistance bands, yoga mats, and more, a big screen TV, pool table, poker table, snooker table, video arcade, dining area, and library complete with books to borrow and games to play. Down the road, only 5 minutes away, is a rarely used public boat ramp if you want to get on the lake away from the crowds. And the stars at night are breathtaking!