Questions?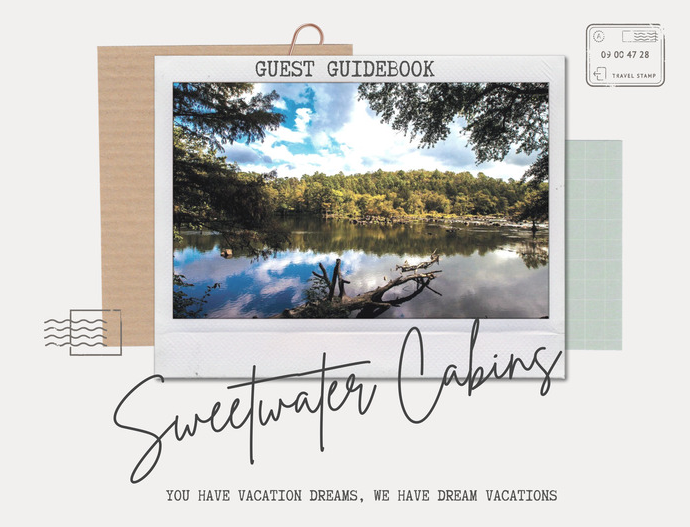 VIEW OUR NEW DIGITAL GUEST GUIDEBOOK!
---
Description
CABIN CONFIGURATION:
2 Bedroom/2 Bathrooms/Sleeps up to 9
2 Bedrooms with King Bed
Upstairs Loft with 2 twin Murphy beds
PET FRIENDLY - with payment of nightly pet fee
DISCOUNTS/SPECIALS available for sweetwatercabins online bookings only
BABY GEAR AND OFFICE EQUIPMENT RENTAL AVAILABLE: high chair, stroller, pack n' play, crib, baby tub, office desk and chair, printer


Camp Canoe

Do you love a PERFECT LOCATION? Within lush grounds and the most striking mountain panoramas sits the magnificent Camp Canoe cabin; a striking private retreat within quick proximity to Broken Bow Lake, Beavers Bend State Park and all other area attractions and restaurants. This newly completed luxurious vacation retreat speaks to a vacationer who truly values thoughtful craftsmanship and artistry in not only the materials used, but also in the overall design and layout.

This magnificent 2 story cabin in a sleek, modern Vermont cabin design sets a warm welcome with an inviting covered front and back porch designed around a stunning gas log fireplace with rustic stone facade. An outdoor grilling and seating area along with a soothing hot tub creates an outdoor living space with all of the same comforts and amenities as the interior, increasing the livable space for you and your guests to enjoy an spread out in during your stay at Camp Canoe.

Step inside to discover a very open floor plan with lots of natural light providing a spacious feel throughout. Camp Canoe offers luxurious textures and attention to detail at each turn, where warmth and sophistication are beautifully paired with extraordinary materials and mixture of modern and rustic lines. The welcoming living room is accented by a stately fireplace with a stone backdrop that gives you a stunning camp vibe to help infuse a relaxing calmness throughout the space. Sit back, relax, and watch your favorite series on the flat screen smart TV after a long day of exploring the beautful outdoors. A cozy-built-in sitting nook is well lit for reading or other laidback activities with plenty of comfort for all. Camp Canoe's delightful open concept floor plan creates a great space for entertaining that can be continued into the kitchen with a large island that everyone can gather around. The kitchen is expertly fashioned with custom finishings, granite counters, premium stainless steel appliances, and a beautifully designed island with apron font sink allowing an open airy feel to the living area with its warming fireplace. The sleek cabinetry is paired with a unique custom backsplash that ties in the modern and the rustic giving this culinary suite to a high end polish. Open and light at every turn with sunny, leafy-green views from almost everywhere, there's plenty of natural light from the large picture window by the dining area. Tucked beneath artful lighting and enjoying the most captivating vistas, this space is perfect for dining, after dinner drinks, or an impromptu game of cards.

When it comes to R&R, there is no place like the two spacious and well-appointed bedrooms. One king bedroom enjoys a generous scale with feature wall while the second soars to new heights with vaulted beam ceilings and king bed suspended from thick ropes with plenty of natural light throughout. The bathrooms welcome you into a spa-like experience with custom tile-work and modern fixtures, while the main bathroom is a destination unto its own with a unique freestanding soaking tub, an oversized walk-in shower, and double vessel sinks. The upstairs loft creates an added flex space that can serve many purposes, such as a hang out area with video arcade, a comfy lounge area with it's sectional couch, and a drinks area complete with dry bar and beverage chiller. When bedtime calls, there are extra sleeping accommodations including two twin Murphy beds

Camp Canoe evokes a very quiet and peaceful ambiance situated on a mountain top before an endless expanse of tree tops. This panoramic view can be experienced from its elevated perch that offers a serene level of luxury and layers of comfortable panoramic deck in which to soak up every second of the majestic beauty before you. Plush seating offers room to enjoy the view and the electric linear fireplace is set to bring a tranquil warmth to your alfresco enjoyments.

Come SEE the serenity, or better yet, come FEEL the serenity by booking your next stay at Camp Canoe!



PROVISIONS INCLUDED IN YOUR RENTAL:
• Fully furnished cabin with standard appliances
• Guest Snack Tray/Jar filled with treats
• Bath & Beach Towels, Wash Clothes, Hand Towels, Linens/Bedding, Plates & Cutlery, Drinking Glasses, Crockery, Cooking Utensils, Various Pots & Pans, Dishcloths, Pot Holders, Hair Dryer, Coffee Maker, Toaster, Blender, Crock Pot, Microwave, Dishwasher, Washer/Dryer, Propane Grill (1 propane tank included), Hot Tub, Outdoor Fire Pit, TV, Internet.
• STARTER SUPPLY of Coffee (drip coffee only), Sugar Packets, Powdered milk Packets, Salt and Pepper Packets, 1 Kitchen Sponge, 5-6 Laundry Detergents, 5-6 Dishwasher Soaps (under sink), 1 Hand Soap, 2 rolls toilet paper per bathroom (1 on holder and 1 under sink/drawer) , 1 Paper Towel (under sink), 5-6 Trash bags (under sink), 1 Travel Sized Shampoo per shower/bath, 1 Bar Soap per bathroom and shower. Additional supplies can be purchased at local supermarkets.
**A limited supply of bath towels/beach towels/wash clothes/hand towels are provided so laundering may be necessary during your stay

PROVISIONS NOT INCLUDED IN YOUR SHORT TERM RENTAL:
• Food
• Firewood
• Spices (except for salt and pepper packets)
• Facial Tissues
• Hangers (some owners provide)
• Saran Wrap/Tin Foil/storage containers
• Paper cups/paper plates/plastic silverware
• Tea Kettle (some owners provide)
• Closet (some cabins are only equipped with an owners/housekeeping closet which is not available to the guest)
**Our cabins are for short term rental use only therefore, if an item is not listed as a provided provision, please assume it is not provided.

Fireplaces are seasonal October 1-March 31
Map
Sleeping Arrangement
Common Space
3 Twins, 1 Sofa Bed
Amenities
Hot tub
Cornhole
Firepit
Outdoor fireplace
Loft gameroom with mini bar
Video Arcade
Wine Refirgerator/Dry Bar
Upstairs balcony with beautiful view

Rates
* Rates are subject to change without notice. Pricing excludes taxes, additional options or fees.
Calendar
Jun - 2023
S
M
T
W
T
F
S

1

2

3

4

5

6

7

8

9

10

11

12

13

14

15

16

17

18

19

20

21

22

23

24

25

26

27

28

29

30
Jul - 2023
S
M
T
W
T
F
S

1

2

3

4

5

6

7

8

9

10

11

12

13

14

15

16

17

18

19

20

21

22

23

24

25

26

27

28

29

30

31
Aug - 2023
S
M
T
W
T
F
S

1

2

3

4

5

6

7

8

9

10

11

12

13

14

15

16

17

18

19

20

21

22

23

24

25

26

27

28

29

30

31
Sep - 2023
S
M
T
W
T
F
S

1

2

3

4

5

6

7

8

9

10

11

12

13

14

15

16

17

18

19

20

21

22

23

24

25

26

27

28

29

30
Oct - 2023
S
M
T
W
T
F
S

1

2

3

4

5

6

7

8

9

10

11

12

13

14

15

16

17

18

19

20

21

22

23

24

25

26

27

28

29

30

31
Nov - 2023
S
M
T
W
T
F
S

1

2

3

4

5

6

7

8

9

10

11

12

13

14

15

16

17

18

19

20

21

22

23

24

25

26

27

28

29

30
Dec - 2023
S
M
T
W
T
F
S

1

2

3

4

5

6

7

8

9

10

11

12

13

14

15

16

17

18

19

20

21

22

23

24

25

26

27

28

29

30

31
Jan - 2024
S
M
T
W
T
F
S

1

2

3

4

5

6

7

8

9

10

11

12

13

14

15

16

17

18

19

20

21

22

23

24

25

26

27

28

29

30

31
Feb - 2024
S
M
T
W
T
F
S

1

2

3

4

5

6

7

8

9

10

11

12

13

14

15

16

17

18

19

20

21

22

23

24

25

26

27

28

29
Mar - 2024
S
M
T
W
T
F
S

1

2

3

4

5

6

7

8

9

10

11

12

13

14

15

16

17

18

19

20

21

22

23

24

25

26

27

28

29

30

31
Apr - 2024
S
M
T
W
T
F
S

1

2

3

4

5

6

7

8

9

10

11

12

13

14

15

16

17

18

19

20

21

22

23

24

25

26

27

28

29

30
May - 2024
S
M
T
W
T
F
S

1

2

3

4

5

6

7

8

9

10

11

12

13

14

15

16

17

18

19

20

21

22

23

24

25

26

27

28

29

30

31
Video
Reviews
Property Manager
Property
Property Manager
Property
Property Manager
Property
Property Manager
Property
Property Manager
Property
Property Manager
Property
Similar Properties