Questions?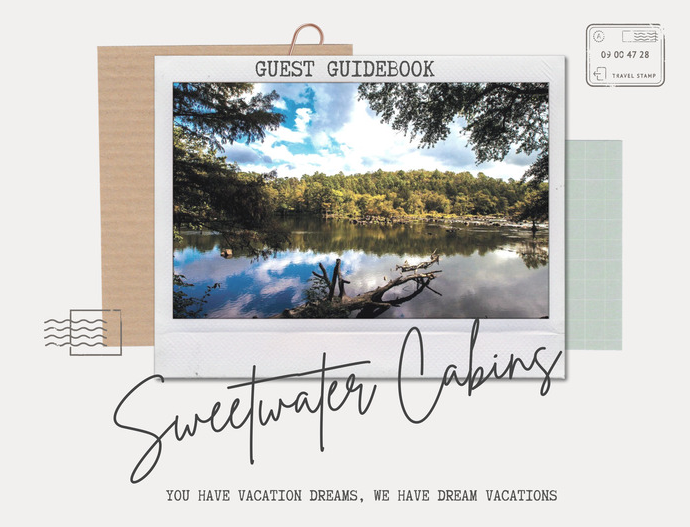 VIEW OUR NEW DIGITAL GUEST GUIDEBOOK!
---
Description

Cabin Configuration:
7 Bedrooms/7.5 Bathrooms/Sleeps up to 30
Downstairs: King Bedroom with ensuite bathroom and bathtub, Game Room with Shuffle Board, Video Arcade, Pinball Machine, Game Table, Big Screen TV, laundry room w/ half bath.
Upstairs: King Bedroom with 4 bunk beds and ensuite bathroom, King Bedroom with 4 bunk beds and ensuite bathroom, King Bedroom with trundle and ensuite bathroom, King Bedroom w/ trudle and ensuite bathroom, King Bedroom w/ trundle bed and ensuite bathroom, King Bedroom w/ trundle bed and ensuite bathroom.
Outside: Outdoor fireplace, outdoor living and dining area, outdoor kitchen, out door shower, hot tub, firepit, horse shoes, outdoor play set
Events Allowed (venue fee and 3 night minimum stay required)
Discounts/Specials available for sweetwatercabins online bookings only
Baby Gear and Office Equipment Rental Available: high chair, stroller, pack n' play, crib, baby tub, office desk and chair, printer
No pets allowed


The Grand Adventure

Get away from it all and experience the tranquility of nature at The Grand Adventure! This all new luxury log cabin has it all, in a prime location spanning a whopping 7,400 square feet, with a spectacular layout that supports 7 Bedrooms and 7.5 Bathrooms to sleep a total of 30 guests, all located just minutes away from all of Hochatown's activities.

Embraced by lofty hardwoods with a glorious crown of foliage, the lush woods create a cozy and ultra private setting away from the world as you approach this premier destination property. The full breadth of the cabin emanates a cultured and rustic charm, including gorgeous vernacular architectural details, all blended oh-so-perfectly with a contemporary palatial aesthetic. The entry reveals an exquisite open concept floor plan that merges main living areas, while maintaining the integrity of each individual space. Your arrival into the cabin is backed by a full wall of windows that frame out the majesty of nature like living artwork. Soaring 2-story vaulted ceilings with seemingly endless windows will illuminate and evoke your circadian rhythm. Each living space here is delightful and will allow your group to spread out as needed. The great room steals the show, revealing a double staircase that flanks the entry before merging into an open landing on the upper level that overlooks the goings on below. Step further inside the main level and be captivated by the dramatic floor-to-ceiling fire pit fireplace that is shared between the living, dining and kitchen. This glorious focal point features built-in seating and has a large flat screen TV over the mantle to enjoy your favorite shows and movies from the comfort of the living room furniture. From here, you can move freely into the dining area and open gourmet kitchen with everything the eager cook could ever wish for. Sweeping countertops and a center island are all yours to enjoy along with gorgeous, shaker cabinets and a suite of quality appliances including a gas stove with pot filler. A large and intricate architectural stonework doorway marks your entrance into this chef's suite, all while still being connected to the activities in the living and dining room with butler's pantry for extra preparation room. Around the corner, a laundry room supports double full size washer/dryer units as well as a secondary fridge, perfect for meal prepping for large groups.

The residence enhances your senses by delivering unique angles and views from every room with seamless indoor/outdoor living. Indeed, the outdoor space continues to excite with an amazing array of comforts and amenities. A partially covered deck spans a great many alfresco lounge and dining areas, including am outdoor kitchen with built-in grill, sink and beverage chiller, ensuring you have all the makings for an evening to remember! A hot tub is the perfect relaxing destination, with custom outdoor shower right beside. Step down the stairs to a flagstone-style patio with custom fire pit ringed by adrianak chairs, meanwhile a second fire pit sits off at the distance alongside the children's playground set and near the horse shoes game.

Back inside, you will find all the comforts of home and even more luxurious finishes in the lavish bedrooms. The main floor hosts a King Bedroom with trundle bed and ensuite bathroom with bathtub, all with easy access to the cabin's Game Room complete with Shuffle Board, Video Arcade, Pool Table, Ping Pong, Game Table, and Big Screen TV. The upstairs level is where you find the remaining bedrooms including a King Bedroom with 4 bunk beds and ensuite bathroom, King Bedroom with 4 bunk beds and ensuite bathroom, King Bedroom with trundle and ensuite bathroom, King Bedroom with trundle and ensuite bathroom, King Bedroom with trundle bed and ensuite bathroom, and King Bedroom with trundle bed and ensuite bathroom. These gracious accommodations assure every need is met and features sumptuous furnishings and pampering amenities to boot.

The Grand Adventure provides a beautiful backdrop to say "I do" surrounded by privacy, natural beauty, and an excellent selection of recreational amenities. This immense cabin is large enough to accommodate the entire wedding party as well as host your wedding! Beyond just that of a place for a destination wedding, this expansive cabin also makes for a great place to throw that big family reunion, corporate retreat, or any other large gathering. Make this your go-to getaway, right away! Book your vacation or event now!!

Provisions Included In Your Rental:
• Fully furnished cabin with standard appliances
• Guest Snack Tray/Jar filled with treats
• Bath & Beach Towels, Wash Clothes, Hand Towels, Linens/Bedding, Plates & Cutlery, Drinking Glasses, Crockery, Cooking Utensils, Various Pots & Pans, Dishcloths, Pot Holders, Hair Dryer, Coffee Maker, Toaster, Blender, Crock Pot, Microwave, Dishwasher, Washer/Dryer, Propane Grill (1 propane tank included), Hot Tub, Outdoor Fire Pit, TV, Internet.
• Starter Supply of Coffee (drip coffee only), Sugar Packets, Powdered milk Packets, Salt and Pepper Packets, 1 Kitchen Sponge, 5-6 Laundry Detergents, 5-6 Dishwasher Soaps (under sink), 1 Hand Soap, 2 rolls toilet paper per bathroom (1 on holder and 1 under sink/drawer) , 1 Paper Towel (under sink), 5-6 Trash bags (under sink), 1 Travel Sized Shampoo per shower/bath, 1 Bar Soap per bathroom and shower. Additional supplies can be purchased at local supermarkets.
**A limited supply of bath towels/beach towels/wash clothes/hand towels are provided so laundering may be necessary during your stay

Provisions NOT included In Your Short Term Rental:
• Food
• Firewood
• Spices (except for salt and pepper packets)
• Facial Tissues
• Hangers (some owners provide)
• Saran Wrap/Tin Foil/storage containers
• Paper cups/paper plates/plastic silverware
• Tea Kettle (some owners provide)
• Closet (some cabins are only equipped with an owners/housekeeping closet which is not available to the guest)
**Our cabins are for short term rental use only therefore, if an item is not listed as a provided provision, please assume it is not provided.

Indoor & Outdoor Fireplaces: (seasonal October 1-March 31)

*Events Allowed! (venue fee and 3 night minimum stay required)
Map
Sleeping Arrangement
Bedroom 2
1 King, 1 Trundle Bed
Bedroom 3
1 King, 1 Trundle Bed
Bedroom 4
1 King, 1 Trundle Bed
Bedroom 5
1 King, 1 Trundle Bed
Bedroom 6
1 King, 2 Bunk Beds, 1 Twin
Bedroom 7
1 King, 2 Bunk Beds
Amenities
Hot tub
Playset
Cornhole
Horseshoes
Video Arcade
Fooseball
Shuffleboard
Outdoor Shower

Rates
* Rates are subject to change without notice. Pricing excludes taxes, additional options or fees.
Calendar
Sep - 2023
S
M
T
W
T
F
S

1

2

3

4

5

6

7

8

9

10

11

12

13

14

15

16

17

18

19

20

21

22

23

24

25

26

27

28

29

30
Oct - 2023
S
M
T
W
T
F
S

1

2

3

4

5

6

7

8

9

10

11

12

13

14

15

16

17

18

19

20

21

22

23

24

25

26

27

28

29

30

31
Nov - 2023
S
M
T
W
T
F
S

1

2

3

4

5

6

7

8

9

10

11

12

13

14

15

16

17

18

19

20

21

22

23

24

25

26

27

28

29

30
Dec - 2023
S
M
T
W
T
F
S

1

2

3

4

5

6

7

8

9

10

11

12

13

14

15

16

17

18

19

20

21

22

23

24

25

26

27

28

29

30

31
Jan - 2024
S
M
T
W
T
F
S

1

2

3

4

5

6

7

8

9

10

11

12

13

14

15

16

17

18

19

20

21

22

23

24

25

26

27

28

29

30

31
Feb - 2024
S
M
T
W
T
F
S

1

2

3

4

5

6

7

8

9

10

11

12

13

14

15

16

17

18

19

20

21

22

23

24

25

26

27

28

29
Mar - 2024
S
M
T
W
T
F
S

1

2

3

4

5

6

7

8

9

10

11

12

13

14

15

16

17

18

19

20

21

22

23

24

25

26

27

28

29

30

31
Apr - 2024
S
M
T
W
T
F
S

1

2

3

4

5

6

7

8

9

10

11

12

13

14

15

16

17

18

19

20

21

22

23

24

25

26

27

28

29

30
May - 2024
S
M
T
W
T
F
S

1

2

3

4

5

6

7

8

9

10

11

12

13

14

15

16

17

18

19

20

21

22

23

24

25

26

27

28

29

30

31
Jun - 2024
S
M
T
W
T
F
S

1

2

3

4

5

6

7

8

9

10

11

12

13

14

15

16

17

18

19

20

21

22

23

24

25

26

27

28

29

30
Jul - 2024
S
M
T
W
T
F
S

1

2

3

4

5

6

7

8

9

10

11

12

13

14

15

16

17

18

19

20

21

22

23

24

25

26

27

28

29

30

31
Aug - 2024
S
M
T
W
T
F
S

1

2

3

4

5

6

7

8

9

10

11

12

13

14

15

16

17

18

19

20

21

22

23

24

25

26

27

28

29

30

31
Reviews
Property Manager
Property
Property Manager
Property
Property Manager
Property
Property Manager
Property
Property Manager
Property
Property Manager
Property
Property Manager
Property
Similar Properties