Guest Concierge Services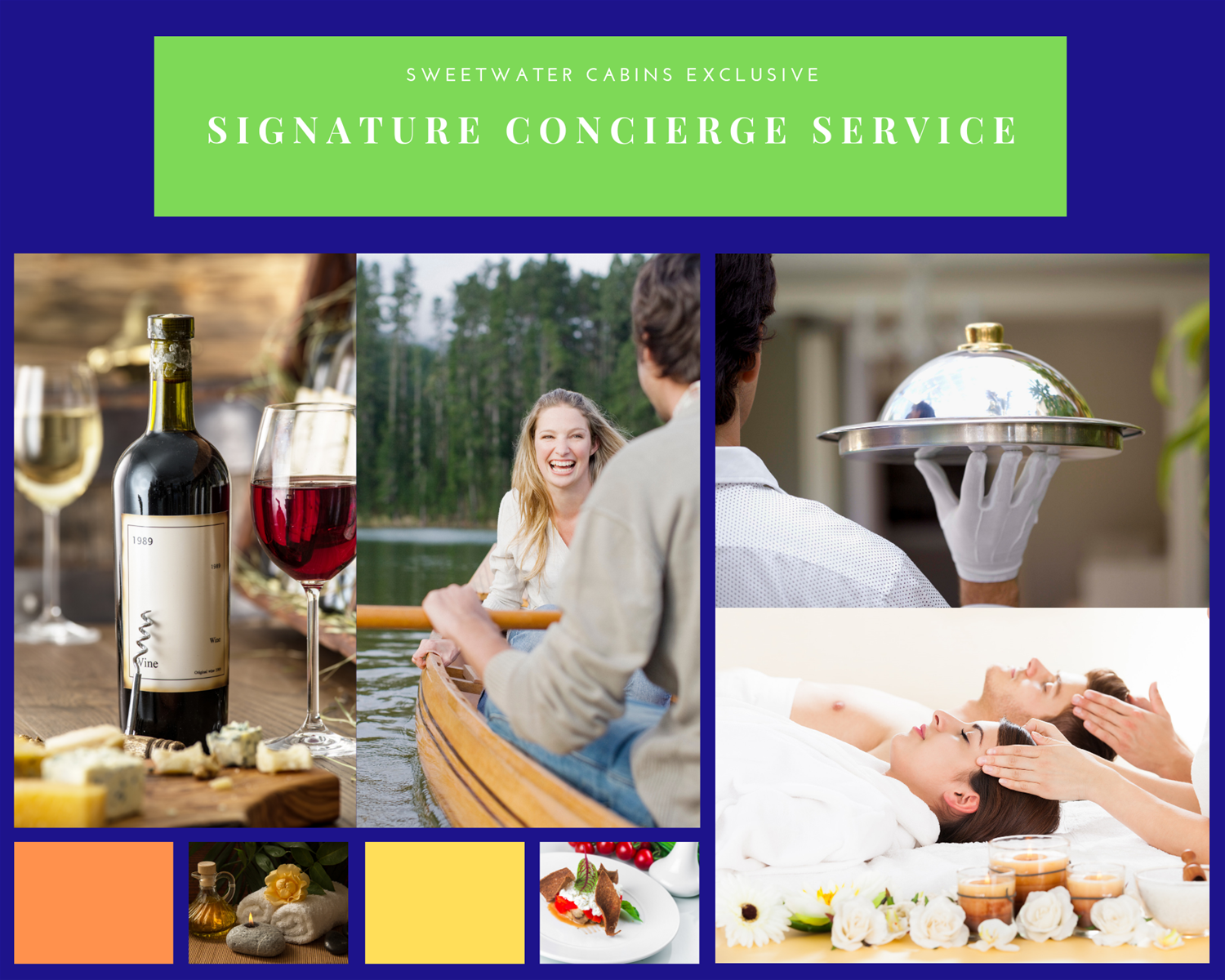 Signature Guest Concierge Service
*UNAVAILABLE UNTIL FURTHER NOTICE DUE TO COVID SOCIAL DISTANCING RECOMMENDATIONS
Sweetwater Cabins unprecedented Concierge Service provides our most discerning guests an unimaginable standard of service and luxury, where your every need is anticipated. Sweetwater Concierge service includes special offers, gifts, and a personal Sweetwater Butler.
CONCIERGE SERVICE INCLUDES:
PERSONAL BUTLER to handle all your vacation details, from pre-arrival grocery shopping to planning local excursions.
Complimentary commemorative 5 x 7 etched Sweetwater photo frame
NO extra charge for early check-in or check-out times, if available
50% discount on additional night stays on 3-day bookings or more, if available
FREE additional night stay on 6-day bookings or more, if available
15% off Sweetwater 'Into the Woods' 100% organic Arabic coffee, Sweetwater coffee mug with spoon, Sweetwater wine glasses, and handmade organic Sweetwater 'Mountain Spice' soap

WHAT YOUR PERSONAL SWEETWATER BUTLER WILL DO FOR YOU:
Welcome e-mail introducing your personal Sweetwater Butler with a list of vacation recommendations
One-on-One consultation with your Personal Sweetwater Butler to help you plan your upcoming vacation
Stock groceries prior to your arrival
Pre-arrange spa services
Pre-plan in-cabin birthday or romance celebration
Make restaurant reservations and much more!

UPON ARRIVAL
Sweetwater Butler will greet you at your cabin
Provide ice cold water and tasty treats
Tour cabin and provide amenity orientation
Provide pre-arranged vacation schedule-including dates, times, and directions
Supply a personalized number to reach your Sweetwater Butler during your stay

DURING YOUR STAY
Make all dinner reservations, excursion/rental bookings, and/or spa treatments that have not been pre-arranged
Liaise with housekeeping regarding the service and amenities of your cabin
Set up in-cabin birthday or romance celebration, if applicable
Daily courtesy check in phone call

BEFORE YOUR DEPARTURE
Arrange late check-out times or additional night stay reservations, when available
Courtesy check-out phone call offering post stay lunch recommendations and/or help with directions.

FEES:
Signature Concierge Service: $75 for 2 day stay, $125 for 3 or more day stay
Groceries: $25 or 25% of grocery bill whichever is greater. Your credit card on file will be charged the day of shopping and is non-refundable. Grocery list must be submitted 5 days prior to your arrival.
Romance Package: $125 includes bottle of local red or white wine, box of handmade fudge or chocolates, and 2 souvenir Sweetwater wine glasses. Romance package is only available with the concierge service.
Birthday Package: $65 includes double layer chocolate or vanilla birthday cake, happy birthday candle, and special Sweetwater birthday gift. Romance package is only available with the concierge service.
Excursions/Spa/Rentals/Tours: Sweetwater Butler will make reservations on guests' behalf; all costs are the responsibility of the guest including, but not exclusive to, any no-show, cancellation, additional, or change of fees charged by 3rd party companies.
Concierge Service Cancellations: 30 days or more: 100% refund less $50 Butler fee/No refund 30 days or less