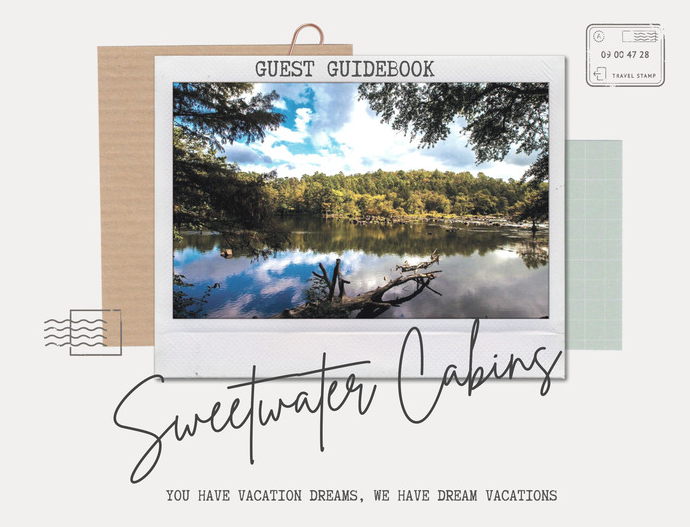 VIEW OUR NEW DIGITAL GUEST GUIDEBOOK!
---
Vacation Home Property Management Services
The Sweetwater journey began in 2015 with the purchase of 5 honeymoon cabins on a quiet 7-acre cul de sac. After a year of self-managing the challenges of both ownership and management inspired the creation of the first full-service boutique property management company in 2016. Sweetwater bridges these challenges by offering customized commission rates ranging from
15% to 30% and multi-cabin discounts
to owners who invest in more properties.
Our mission was to focus on luxury cabins, maintain a selective and limited cabin portfolio, and offer the lowest commission rate. We were the first management company to list cabins on VRBO and Airbnb, subsequently, exponentially increasing our owners' return on investment beyond their expectations.
Since then we have established long-lasting, trusting relationships with our cabin owners and our company has reached the highest status rankings on all 3rd party booking platforms including 'Superhost' on Airbnb and 'Premier Host' on VRBO. Due to our reputation, a number of reviews, and longevity, Sweetwater has increased leverage with these platforms so that all cabins under Sweetwater get immediate preferential search engine ranking and featured listings.
We utilize several software systems to increase our cabin booking rates including professional property management software, a state-of-the-art interactive website, and a vacation channel manager system that seamlessly integrates our system with over 15 booking platforms including Airbnb, VRBO, booking.com, and TripAdvisor. To attain maximum rental and occupancy rates for our owners we utilize a dynamic pricing software that adjusts nightly rates based on real-time market data.
But our greatest asset is the personal service we provide. By limiting the number of cabins in our portfolio, we can concentrate on best service practices for our guests and our owners. Including personally meeting a guest with special needs at check-in, calling guests mid-stay to offer additional provisions, leaving a gift from the Sweetwater staff for a guest's special occasion (99th birthday), or sending flowers when a guest has lost a family member. We are able to visit every cabin on a regular basis to do maintenance and quality checks or full cabin inventory to ensure incoming guests have all the necessary provisions and amenities during their stay and to ensure the property is being well maintained. We also provide luxury amenities to our guests including snack trays, lavish bath and body products, plush bathrobes, household essentials, toiletries, coffee products, and a complimentary engraved frame to commemorate their stay.
In short, our goal has never been to be the largest management company, but instead to maintain a small selective portfolio so we can concentrate on our 3 main objectives.
Helping our guests realize their vacation dreams by providing dream vacations
Maximizing our owners' return on investment
Encouraging brand loyalty so our guests return to a Sweetwater Cabin year after year
Co-Hosting Program 15%
This program is designed for owners who want to self-manage their property but also want the benefits and leverage a full-service property manager has in booking, marketing, and advertising.
Marketing & Advertising Services including website, social media, newsletters, features, etc
Reservation Management
Guest Service Communication
Guest Lodging/Sales Tax Collection and Remittance
Payment Processing
Dynamic Pricing Services
Inclusion in 3rd Party Booking Platforms including VRBO ($499 annual fee), Airbnb, Booking.com, and many others
Rental and Sales Accounting
Damage Protection and Claim Processing
Personalized Cabin Sign
Local Partner Referrals
Full-Service Management Program- 25%
All Services in Marketing and Managing Booking Program plus:
Full-Time Maintenance and Administrative Staff
Inclusion in 3rd Party Booking Platforms including VRBO (no annual fee), Airbnb, Booking.com, and many others
Full Property Care Management Services
Unlimited Guest Service Calls Provided at no additional charge
Schedule and Supervise Maintenance and Repair Services
Provide Preventative Cabin Maintenance Services
Inventory and Inspection Services
Minor Cabin Repairs at no additional charge
Moderate Cabin Repairs at a discounted rate
Personalized On-Demand Guest Services and 24/7 Support
Supply Guest Stay Provisions and Amenities
Holiday Guest Gift Delivery
Personalized Cabin Business Cards
Professional Photographs
Professionally Written Cabin Description
Instructional QRC Cabin Videos
Owner Concierge Services
Owner short term storage and direct shipping facility
Full Provisions and Amenities Provided for Owner Stays at no additional charge
No Commission for owner stays
Multi-Property Full-Service Management Program- 20%
All Full-Service Management for owners with 3 or more cabins on the rental market
Customized Full-Service Management Program- 30%
All Full-Service Management for owners who require temporary and/or part-time short term rental services
Please email us if you have any questions or would like to meet to discuss our services in greater detail.
We hope to welcome you to the Sweetwater Family!
Brooke, Josh, Donna, and Terry
www.sweetwatercabins.com
214-326-4885
________
YOUR INVESTMENT ________
OUR PRIORITY